Whether it is a new or an existing home, Steelhead Construction and its employees always have your value in mind. Value is something that truly cannot be quantified in the moment, however can be completely realized in the future, when the product has reached the end of its life. At this point an individual can look back and determine the value of their investment.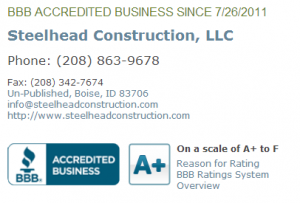 This is why the sustainability of every project is of utmost importance at Steelhead Construction.
Quality is the true measure of value.
~ Aaron Wright, President
Steelhead Construction, Boise 100 Member